Case Study
Debris netting
As specialist in debris netting we always like a new challenge and an interesting project.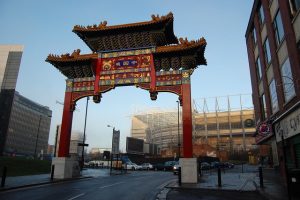 This magnificent Chinese Arch is located at the north end of St Andrew's Street, close to its junction with Stowell Street, marking an entrance to 'Chinatown' in Newcastle.
The arch was opened to the public on the 21st of February, 2005. The arch was designed by Mr Yonglai Zhang and built by craftsmen from the Changsu Classical Garden Construction Company (Group) Ltd from Changsu, of the Jiangsu Province of China.
The arch is 11m high and is decorated with carved and colourfully painted animals including dragons and phoenixes. The seven panels on the arch are decorated with scenes or figures from Tyneside and two lions stand at the base of the arch.
Over the years the arch had fallen into disrepair and the tiles were becoming loose and at risk of falling posing a risk to those walking underneath.
The council called on G&M Safety Netting to install protective netting on the roof of the structure, with the work taking place overnight to minimise disruption. This then allows time for plans to be developed, alongside the Chinese community, to repair and renovate the arch. Read More