Use rope access to safely gain access to restricted areas when working at height
Reduces risk of accidents on site compared to traditional methods
Ideal for installing safety netting, bird netting and debris netting
Fast, reliable nationwide delivery
Full supply and installation service available
For technical enquiries or to request a quotation, contact a member of our sales team
Our Rope Access Solutions
Rope access techniques are commonly used in locations where traditional methods such as MEWP's can cause damage to the surfaces on which they need to run. 
It is common for Rope Access techniques to be used in Stadia, over water, on bridges and other complex structures such as radio telescopes and pylons.
Why use rope access when working at height?
Compared to traditional methods, rope access is a safer way to access hard to reach areas when working at height. It requires the use of specialist equipment to gain access to those restricted areas and to provide the operative with support whilst carrying out work tasks.
Rope access allows trained and competent operatives to carry out essential work in those difficult to reach areas, where other methods such as mobile elevating work platforms, cannot be used to achieve the required access.
A fast and safe way of accessing restricted areas to gain access to work at height
Minimal impact on nearby operations and damage to property
Minimise carbon emissions, as the works require no fuel, unlike MEWP's
Reduced risk of accidents on site compared to other means of access, such as ladders
Can be used to install our range of safety netting products
Full installation service provided by experienced and IRATA qualified rope access technicians
Installers trained, assessed and certified by IRATA
Our rope access service is provided in accordance with the Industrial Roped Access Trade Association (IRATA). G&M Safety Netting's experienced rope access technicians are fully trained, assessed and certified by the IRATA (Industrial Rope Access Training Association).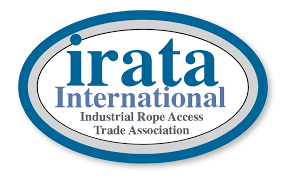 For technical enquiries or to request a quotation, contact a member of our sales team