FASET Training
Safety Decking Training
Training
Learn how to install platform decking systems
Platform decking systems are becoming the most popular way of dealing with height safety issues for those carrying out work activities in high fall risk areas, typically roofers and flooring contractors. They provide fall prevention and a safe working platform, therefore enabling the end user to work in complete safety without the risk of falling from height.
FASET Platform Installer Course is designed for operatives. Although it would suit anyone who wishes to learn how to install platform decking.
This FASET course covers the planning, installation and practical issues surrounding the correct use of platform decking on site.
FASET Platform Installer Course
Course Contents
Standards and legislation
Platform Decking Systems available 
How a system works 
Parts of a Platform Decking System 
Faults • Positioning Limits & Loadings 
Planning 
Installation
Inspection & Hand Over 
Dismantle Method • What's Wrong? 
Inspection Routine/Care and Storage 
Examination/Quarantine • Test to confirm understanding and learning 
Practical + GSA4 Assessment (If applicable) 
FASET Registration + System Specific MIM to take away
Learning outcome
The course starts in a classroom environment. The theory session includes technical information, legislation and the relevant standards to platform decking. Following the presentation, you are trained hands-on with the G&M Safe Deck system. Consequently, you will be able to plan for and install platform decking using the manufacturer's instruction manual. Therefore, you will understand their limitations and industry good practice.
Following the practical, you will be GSA4 assessed. Your skills will be measured against a set standard. Consequently, you will, providing you pass the assessment be able to apply for the Blue CSCS card. If unsuccessful, you will be advised to gain additional experience. Following this, you can be re-assessed.
Location
The course is delivered at our training centre in Cheshire. We will advise on the suitability of away from the centre locations.
Certification
Candidates will receive a certificate of attendance. With successful completion of the test, FASET issue a certificate valid for 5 years.
Duration
Typical timings; 08:00-15:30 -may run all day. Candidate numbers; Minimum 2, Maximum 6. Lunch and drinks are also provided.
Enquire now
For more information about this course including upcoming course dates and bookings, contact our training team.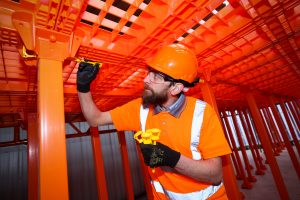 G&M Safe Deck's service is second to none. The system is reliable and well tested. We are totally happy with the service G&M Safe Deck have provided from the start, they are easy to deal with and their ongoing support is excellent.

We chose G&M Safe Deck over other systems because their testing and manufacturing quality is excellent, moreover we can build our scaffolding through the decking, this unique feature was a massive factor in choosing the G&M Safe Deck System.

G&M Safe Deck provided our CSCS carded training. They are flexible and fit in with my programme. This has enabled us to grow the Safe Deck business. The CSCS card scheme is well established and trusted by principal contractors.