Case Study
Safety Netting
Replacement Safety Netting for Helipad on St George's University Hospital London.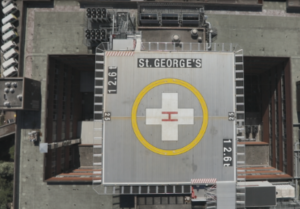 It is now nine years since St George's Hospital helipad was officially opened in. During this time, five air ambulance providers, including Air Ambulance Kent, Surrey and Sussex, London Air Ambulance and Thames Valley Air Ambulance, have transferred critically ill or injured patients to St George's, with 1868 helipad landings overall.
Planning for the rooftop helipad began in 2010 after St George's became the designated Major Trauma Centre for the South West London and Surrey Trauma Network. The hospital helipad, which was the first in south London, took just under a year to build and cost £5million.
We have had the pleasure of working along side BME Services in replacing the netting around the Helicopter landing pad on the hospital roof. This type of working at height is inherently dangerous & requires experience, planning & expert execution.